Exclusive Education Consultancy for France
We are the Best France Education Consultants to assist your study in France
Studying in France made easy just for you! GoFrance is India's First France Education Consultancy focusing on helping out aspiring students to study in France. Our unbiased five-star service from university shortlisting to visa for all prospective students to study Bachelors, MSc, MBA, or even PhD in France is our top priority. GoFrance, the Exclusive France Higher Education Consultancy has a team of consultants to guide you and to answer your questions. Call or whatsapp us to get complete information on education in France and get all your doubts clarified right away.
Recognitions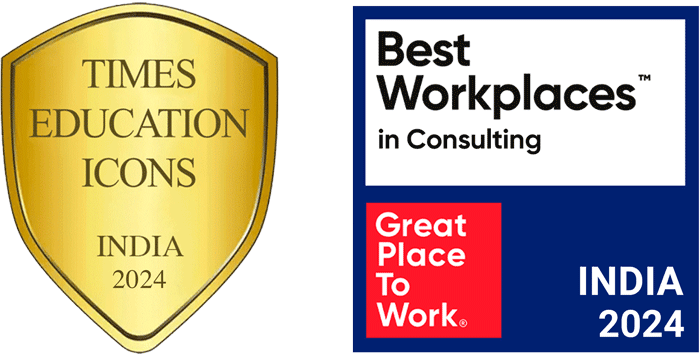 GoFrance is a proud Great Place to Work®-Certified™ organisation, which is the 'Gold Standard' in identifying and recognizing high trust and high performance work culture. We represent Credibility, Respect, Fairness, Pride and Camaraderie.
GoFrance can guide you in choosing the best-suited universities that fall in line with your profile and career goals. Being an expert in France University admissions process, we have a thorough knowledge of what the Universities look for, to secure admission. Get in touch with us for free assistance to apply to Top universities in France.
Our services to kick start your study in France are personalized to suit aspiring students who want us to take over all aspects of their admission. Students looking for assistance from University shortlisting, and applications till visas can avail of our services free of cost, making it easier for their journey to study in France. We terminate all your stress about extensive documentation and applications. Our team of experienced consultants will be at your service throughout the process. You can call or whatsapp us now to start off the process to study in France.
---
Unbiased University & program Shortlisting

Our experienced consultants will analyze your profile and provide you with the best-suited options to Study in France for international students from our partner Universities. Selecting Universities can be tedious so we will pick the top universities for you, shortlist from the elaborate list and help you apply for the best program to study in France.
---
Sop Guidance

Provided a good SOP or an admission essay can win you admission and might be challenging for most students. Universities judge your intentions based on a good SOP so it requires expertise to provide one. Our team has written thousands of successful SOP's that have got students into the top universities with scholarships. We do not use templates or any formats to provide SOP's and make sure that it is custom-made according to your profile. Talk with our consultants to get you a vibrant SOP to apply for your study in France that can speak of your abilities and get admitted to the best universities in France.
---
Letter of Recommendation (LOR) Drafting/Editing

Universities in France pay close attention to your recommendations since it is given by a person who has assessed you at an academic or professional capacity. Pointing out aspects from a third person's perspective for your study in France is given importance by the Universities and so it is ideal to provide good LORs. Downloading LOR templates from the internet is something very common among students but we suggest you give us a call to draft person-specific LORs based on inputs from your recommenders.
---
Resume / Curriculum Vitae Writing / Editing

A resume is factual and has details about your academic as well as work experience. It is crucial to frame it in an order that is easily understandable and captivating at the same time, highlighting your strengths and achievements. Our team of experts will provide a resume that covers all the relevant details for your application.
---
Application Submission & Tracking

Every university has its application process. We have done thousands of applications so doing your application without flaws is going to be easy. Preparing university-specific documents as per the application requirement for study in France will be taken care of by our experts.
---
Assistance for Education Loan

GoFrance will assist you in finding the right bank to fund your study in France. We have 20+ education loan providers who can assist you and our experienced consultants will guide you to choose the right education loan provider, prepare the necessary documents required for loan and get your loan sanctioned.
---
Student Visa documentation & Filing

Handling more than thousands of visa applications and with a 100% visa success rate for study in France, our team of visa consultants are well versed with the France student visa requirements and will assist you in each step. Our assistance in preparing your visa application, academic and financial documents required for the application, and sponsor-related documents will ensure a tension-free visa process.
---
Travel and Accommodation

Finding the right place to stay while studying in France that fits your budget can be daunting. Keeping in mind your needs, convenience, and affordability, we can find your accommodation in France during your course of study. With our partners for flight booking and accommodation, we can get you the best deals.
---